There is not only one oriental perfume, but several. They are grouped in a family composed mainly of 3 types of scents such as precious wood, vanilla and spices. Other noble materials such as patchouli, amber, mint and musk are also added to this unique olfactory universe that is the oriental scent.
These warm, woody and spicy accords will transport you to distant parts of the globe. From the delicious fragrances of the Gulf deserts, through China, while greeting India and South Asia. In order to discover the origin and history of oriental perfumery, let's take a little olfactory stroll.
Let's discover together the genesis and history of oriental perfumery which gave birth to the eponymous scent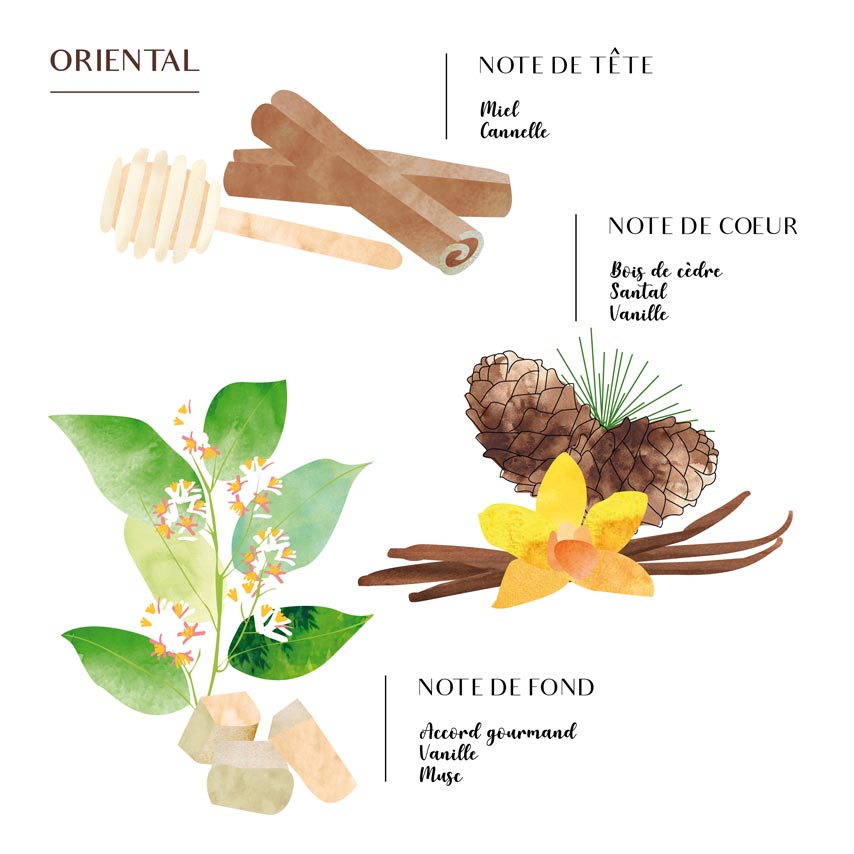 Where do these warm and deep notes come from?
Oriental perfumes were born in Al-'Ula, a province of Medina, Saudi Arabia. This oasis had attracted all the civilizations of the world because of its wealth. Different peoples traveled thousands of miles to buy the aromatics of Al-'Ula. They were spices and fragrant plants such as coriander, sage and mint. These noble and important ingredients are mainly used in perfumery.
We can discover among the collections proposed by Côté Bougie, scented candles, reed diffusers and home fragrance with the oriental perfume. If you want to enjoy a warm atmosphere and a spicy note, choose our Terra black candle. For those who love the sweet and pleasant fragrance of mint leaves, our Mint & Tea Burn Oil is the ideal solution.
The oriental note: the mother of all perfumes
The warm and deep accords first appeared around 1700 BC and are thus considered the mother of all perfumes. Arabia has long been called 'lucky' for its quality agriculture and luxurious aromatics. Thanks to its favourable and fertile lands, this region is known worldwide as the cradle of perfumery. This fragrance then became very popular and began to hold a very important place in many areas of men and women's lives.
Oriental perfumery has become a sacred tradition
Oriental perfumery is known for its warm, deep and sensual scents. In the ancient Persian kingdoms, men were obliged to present these perfumes to their wives. This act was seen as a token of their love for them. They were required to offer it throughout their lives. In their eyes, these perfumes corresponded to the thing that best represented female voluptuousness.
Thanks to Côté Bougie, you still have the possibility to prove your love to your partner. We offer you many collections of decorative scented candles with oriental notes. Our Janna collection of raffia candles is able to create a warm and soft atmosphere, ideal for relaxing moments in the bedroom, bathroom or living room.
Côté Bougie tries to perpetuate this tradition and to pay tribute to the greatness and the history of the oriental scent through its products.
An oriental atmosphere to honor the guests
Since the beginning of time, perfumes have been part of the famous Arabian welcoming ritual. Families are required to perfume arrivals with Qumqum, a water flavored with various scents of rose and jasmine. Through these noble scents, they express their hospitality and courtesy, while honoring the visitors.
Oriental perfumery: ingredients of choice
When it comes to oriental scents, Amber is the default note. The Amber comes from the Arabic word 'Anbar' which refers to the sperm whale. All the finesse and voluptuousness of oriental perfumes come from this ingredient, giving it an erotic touch. In 1905, François Coty, the master of modern perfumery, was inspired by this scent, mixed with oregano, to create his first oriental floral perfume.
The first and most famous oriental perfumes
In 1925, Jacques Guerlain confirmed the trend by launching the famous 'Shalimar', which has become a classic among sweet amber scents. It is considered the first oriental perfume. This fragrance consists of a base of Guerlinade (a perfect blend of iris and vanilla balms), bergamot (devoid of lavender and wood aromatics) and a generous amount of synthetic vanilla.
Thierry Mugler took the lead in launching his first oriental gourmand fragrance which he named 'Angel'. This delicious oriental fragrance brings together notes of bergamot and patchouli, mixed with food aromas to accentuate the gourmand accords.
Discover also our article about the history of the orange blossom fragrance